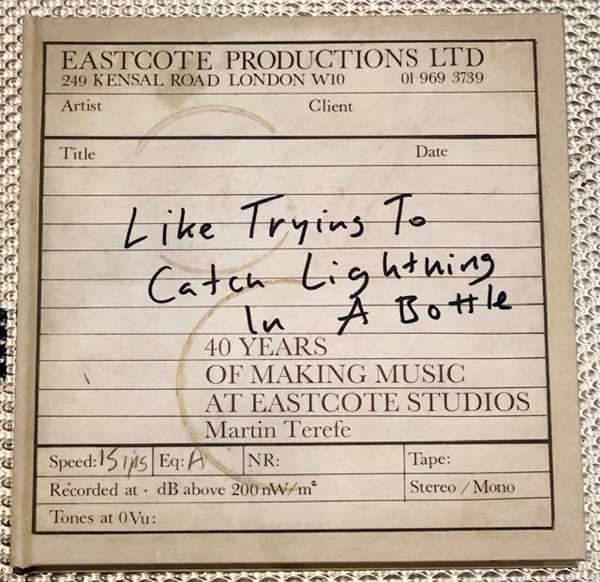 Like Trying To Catch Lightning In A Bottle (Limited Edition)
Deluxe hardcover edition, signed, hand-titled and numbered. [Price includes shipping to UK and EU]
'Like Trying To Catch Lightning In A Bottle: 40 Years of Making Music at Eastcote Studios' is a 254-page, 26x26 cm deluxe hardback history of the legendary Eastcote Studios, written by producer and owner Martin Terefe. This hand-numbered limited edition of 550 is signed by the author and only available via this website and at the studio itself.
In 1980 a young musician and engineer, recently graduated from Cambridge with a degree in architecture, decided to start a music studio. That person was Philip Bagenal and the studio he started was Eastcote Studios.
Situated in the north end of Ladbroke Grove, Eastcote would go on to become one of the most important and influential of London music studios. It is where Massive Attack recorded their seminal first album, Blue Lines, where Neneh Cherry recorded as well as Tricky and Seal in the 1980s and early 90s, and where Mute Records recorded many of their artists, including Depeche Mode. Then in the late 90s it became a central part of the brit pop scene with Placebo, Elastica and Suede and more recently where a new generation of musicians, from Adele to the Arctic Monkeys, the Kaiser Chiefs to Mumford & Sons, created some of their greatest albums.
But this book tells the story of so much more: of why it became so successful, about the bands you may never have heard of, the sessions that collapsed into chaos and the triumphs on the other side. And about the anti authoritarian sound magician that was Philip Bagenal.